Archibald Thorburn - A Pair of Wigeon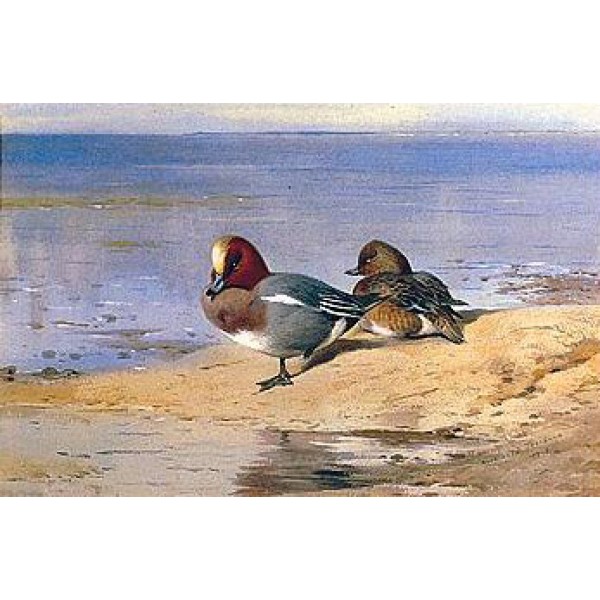 This is an Open Edition Gouttelettes Print by the artist Archibald Thorburn.
600mm x 900mm
Print Only
Archibald Thorburn wrote that: "Looking at things with the eye of the ordinary lover of nature, one can only attempt to represent with brush and pencil the wonderful beauty of the living creatures around us. The chief essential is to acquire the faculty of observing and noting down the many subtle differences in pose and little tricks of habit in different species, and this knowledge can only be obtained by patient watching."
Wigeons are medium sized ducks with small bills and rounded heads. A male wigeon has a distinct breeding plumage which consists of a chestnut coloured head, a yellow forehead and a prominent pink breast with a grey body. In contrast female wigeons have plainer plumage and a distinctive outline which is shaped by their steep forehead, pointed tail and shorter bill. Once in flight wigeons expose their white bellies and additionally males display a large white patch of feathers on their wings.
Wigeons can be found all year round in Northern and Central Scotland and in some parts of Northern England. Large numbers of wigeons winter on the UK's coastline and many of these birds are visiting from Russia, Scandinavia and Iceland. Currently the number of wigeons in the UK are being researched, however there is a likely threat of them becoming endangered species in the future.